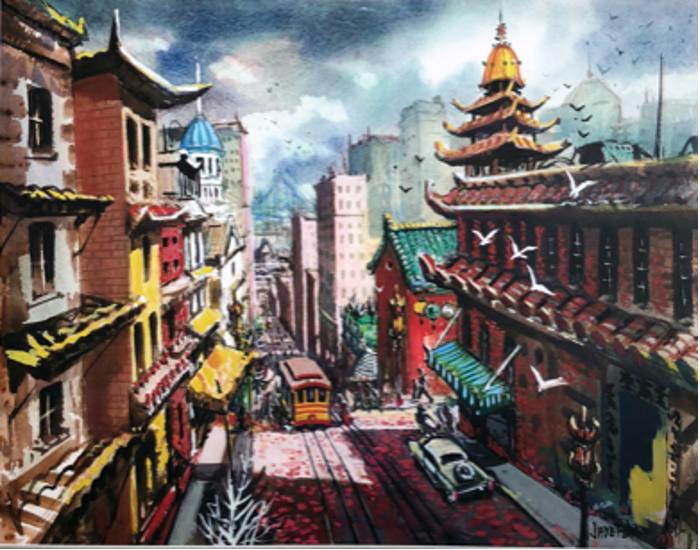 * (The name of this painting is "California Street." See below for artist and detailed publishing information.)
Retaliation in Red
A Short Story
No one knew how the red spots got there. They just appeared one day, and they were spreading. People's brains were worn thin from trying to figure it out. The spots grew on the street and slid up along the walls. Sometimes it got in your hair if you weren't careful.
Mildred Lee took her ten-year-old son Tony to the cable car that day. As she dropped him near the cable car stop it seemed there were more red dots on the streets than last week and even more than yesterday.
"Is­­­­­­­ it growing, Mom?" Tony said, concern in his voice.
"I don't know," she said glancing at her watch. "But I gotta run or I'm going to be late for work. Hop on the cable car and I'll see you tonight, Honey."
But she would not see him as he was that morning. No. Tony ran after the cable car, but he didn't reach it because he slipped on the red goo and got a mild concussion. When he woke up he was in a land far away. It was red. The sun was red. Tony's clothes were red. His hair and skin were red. The people around him were red. They wore red clothes. Bright red. Cinnamon apple red. He was afraid at first, but then, he realized it must be some joke his friends had played on him. He was not hurt. And the color would wash off. He was sure of it. The people seemed friendly enough but they smelled funny, so he wanted to leave right away, but how?
Tony seemed to have found a way out of the red city, because the next thing he knew he was standing outside his home.

"Hi, Mom," Tony said, skipping into the house through the kitchen door. Tony's mom fainted. Who faints anymore? Well, she did.
She came to with smelling salts that Tony's dad administered. He whiffed some himself.
"What happened to you?" both Tony's parents said at the exact same time.
"I don't know. I was running toward the cable car and I slipped. When I woke up, I was in another place. And I was red. But then I fell asleep again and I woke up outside the house, but I was still red."
"Well, I hope this washes off," Tony's mom said, licking her thumb and rubbing it on the back of Tony's arm. Nothing changed. Tony was still red. Very, very red.
"Tony! Who did this to you?"
"I don't know. I think it's kind of cool," Tony said admiring his face in the dining room mirror.
"It's not cool because it's not washing off. I'm calling the school."
Tony scratched his red head with his red fingers. "I never made it to school that I remember."
"What? Where were you?" Tony's dad said. "Now don't make up stories."
"The place was different. Like, the people there were red, and the buildings and streets were red." He paused. "Even the dogs were red."
"Maybe you slipped and passed out. You were dreaming is all. Now let's see if we can get this off you. Come with me, young man," Tony's mom said. Then to her husband, she said, "Call the Sedgwick's. Their son is in Tony's class. See if he was at school."
While Tony's mom scrubbed Tony's skin with every thing from spot remover to cleanser and steel wool, Tony's dad had called five other kids' parents. It took several tries as the lines were busy. Finally it was determined that out of those five, the three children who were anywhere near that particular cable car line were red. All reported going to the same strange place where Tony went where people, clothes, and dogs were red. And all the children had remained red with no amount of washing that would alleviate the stain. The children peed red.
Finally Tony's mom stopped scrubbing. Tony was crying. She was crying. And the next morning Tony's mom and dad were red, along with everyone else in San Francisco. The lobsters had retaliated. But they didn't like the taste of humans, so they let them live.
– – – – – – – – – – – – – – –
* Please note: Do you see the red spots on the street? The story popped upon the page from this wonderful piece of art! This post is a pure fantasy riff on the above painting in the book Bay Area Scene Paintings by Gordon T. McClelland & Austin D. McClelland, Copyright 2018. No disrespect is intended.
Page in Book: Page 26 and Cover
Artist: Jade Fon
Title: California Street
Year: 1950s
Media: Watercolor and gouache
Book Description: Looking down California Street from Nob Hill with China Town on the right side, the business district down below and a section of the Bay Bridge is visible through the towering canyon of buildings.