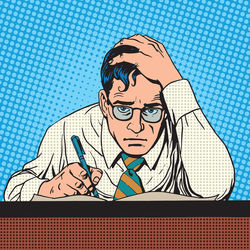 We are inundated with content all day long. We are buried in promotions. Suffocating from inbound. Struggling to create outbound. So because writing is all around us, it seems that it is an easy thing to do. But it's not. WRITING is not easy. Good writing is really, really hard.
People write emails all day long. They're writing. Right? No. It's not WRITING. On the other hand…
Writing is not surgery. Good writing isn't either. But writing is important. (Examples: The U.S. Constitution, The Bible, The Koran, etc.). And it may save lives as in well-written checklists like those in Atul Gawande's Checklist Manifesto or an instruction manual for electrical wiring.
Writing may save lives.
You need a license to practice surgery. And while you do not need one to write, you do need a license to drive a car and to be officially married.
Did you think about the fact that you do not need a license to have a child?
Having a license sets people apart. It denotes a level of proficiency. Yet, even after obtaining a license, people practice what they have learned to become good at it. Doctors, dentists, and lawyers have "practices." Professional musicians practice. Dancers, actors and other people who are not licensed practice long hours to attain the level for which they can be paid… as a professional. Writers do, too.
People struggle to write well. Professional writers struggle more. Tennis players strive to play well. Professional tennis players strive harder and longer. Professional golfers and painters (or anyone who needs the Malcolm Gladwell 10,000 hours of practice to be really good) do not have licenses but compete to be deemed the best at what they do. Writers that write for 10,000 hours do not always get their books published by one of the big publishing houses. That also takes luck. (And luck is also a Malcolm Gladwell Outlier ingredient for success.)
Good writing is not easy. We can try to write more because we think more is better. However, practicing long hours is only helpful if it's correct practice. Because so many people write all day long, they may think they will become better at it. Yes. Better.  But to be a really good writer, people can take a class. Buy a book on writing. Enter contests, and seek legitimate publishing venues. Or they can hire a professional writer to write with them.
Bottom line:  Really good writing is extremely hard to do. There is no license to be a writer. Masters and Doctorate degrees—yes. Otherwise, the proof is in the publishing. In clarity and voice and tone. However, the real proof: the pleasure of reading good writing of any kind.